Seattle's top choice for junk and trash removal.
Seattle Junk & Trash Removal
Whether it's illegal dumping at your commercial property or spring cleaning at your home, Graffiti Busters can help get rid of your unwanted trash and junk.
We offer maintenance plans to keep your parking lots and walkways clear of debris and trash.
Graffiti Busters is happy to serve the people of Seattle and the surrounding areas. We value giving our customers and clients the best experience possible and being the most environmentally friendly junk removal company in Seattle. We provide residential and commercial junk removal so that we can help keep Seattle junk free!
Parking Lots
Walkways & Driveways
Sidewalks
Store Fronts
Bulk Junk Removal
Garage Clean Outs
Debris Haul Away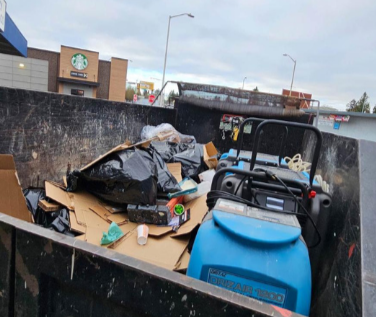 Let our kind and efficient team at Graffiti Busters solve all your junk hauling needs for you. We provide professional junk removal and hauling services throughout the local area. We are looking forward to servicing you for all your junk and debris removal needs.
We offer full service junk removal for Seattle and the Puget Sound region and specialize in the safe and efficient removal of large, bulky items and heavy debris. Our junk removal and hauling services are designed with convenience and affordability in mind. From unwanted mattresses to full property clean outs, our team will quickly remove all your unwanted junk/trash and debris from your residential, commercial, or industrial property.
If you have bulky junk or unwanted debris, give us a call today at (206) 525-0301 to get junk removal quote and to schedule your estimate.
We offer cost-effective solutions and high quality service so you can always have a positive experience with our team. Contact us to tell us what kind of service you need and we'll provide the services you're looking for.
Call us at (206) 525-0301, email us at info@graffitibusterswashington.com or click the link below to contact us for a FREE estimate.